Norman Pietersen (also known as Billy Holiday) was born in 1966 in Paarl, Western Cape. In 1982, he was recruited by uMkhonto we Sizwe (MK) veterans and became an MK guerrilla. At the time of his recruitment, Pietersen was 15-years-old and the youngest member of his MK unit  led by former MK commander Patrick Ricketts, which consisted of 35 members in total, the biggest in the Western Cape. He was sent to Angola for military training in 1982 and later that year to Bulgaria for more training, before being infiltrated into the country five years after his training. Pietersen lived in a safe house in New Crossroads, Cape Town under the care of his handler and home owner Mildred Gladile and her three daughters. On 11 March 1987, Pietersen was shot in his bedroom by the apartheid Riot Squad; 12 shotgun pellets to his chest killed him. He was 22 years old.
At the Truth and Reconciliation Commission (TRC) Amnesty Hearing, it was said that around 8 in the morning, two officers entered through the back door of Pietersen's safe house. The back door was left unlocked, the two officers then opened the front door for the rest of the unit to enter. Sergeant Wilfred Gunther Geiger who killed Pietersen, said that the back door was left open for the police to enter the house. The TRC hearing failed to uncover who left the door unlocked and why. Many MK veterans believe that Petersen's death occurred due to a tip off from one of his MK unit members. A call to reopen Petersen's case was called for as the TCR hearings failed to find out exactly how the Security Police knew about his whereabouts. However, this did not come to fruition.
Gladile and her three daughters had been in the house at the time of Pietersen's muder and were held back by the Riot Squad, unable to see what transpired in Pietersen's bedroom. Without any witness who could testify on behalf of Pietersen, the TRC had to accept the version of the perpetrators but failed to gain full disclosure from them, leaving Pietersen's case unresolved.
Three people knew where Pietersen was before he was killed. Gladile, her neighbour and African National Congress (ANC) veteran Winnie Nkosi and Pietersen's unit commander Patrick Ricketts, who was in exile at the time. In an interview with the Cape Argus newspaper, Gladile claimed that it was Nkosi who tipped off the police. She mentioned that Nkosi confessed to her, before she passed away. There is insufficient evidence to conclude whether this is true or not.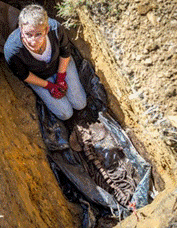 In a joint effort, Pietersen's MK unit members, the Paarl community, the local municipality and the National Prosecuting Authorities' (NPA) Missing Person's Task Team (MPTT) have worked hard to locate his grave and restore his dignity through a reburial ceremony. After 29 years, Pietersen's remains were discovered. On 2 March 2016, Pietersen's remains were found in an unmarked grave in Groenheuwel Cemetery in the Overberg town, close to an informal settlement in Paarl.  Pietersen's remains were wrapped in black bags and exhumed by forensic anthropologist and archaeologist Claudia Bisso who spent several hours examining the remains before placing them in marked brown paper bags. The MPTT confirmed that Pietersen's injuries were consistent with the incident described by the Riot Squad during the TRC hearings.