Manu Herbstein was born in 1936 in Muizenburg in the Western Cape. He graduated from the University of Cape Town with a B.Sc in Engineering in 1958. From 1959-1970 Herbstein lived and traveled extensively to England, Nigeria, Ghana, India, Zambia, and finally Scotland.
From 1963 to 1965 Herbstein was designing the bridge over the Barak River, Silchar, India (400 ft. central span) and Thatta-Sujawal Bridge over Indus River, Pakistan.
He was active in the Anti-Apartheid Movement in London and in Glasgow and during the 1960s he made regular monthly contributions to the ANC via an account in the name, O.R. Tambo and T.X. Makiwane (see illustration on the right – click to enlarge).
From 1963-1965, along with Arun Ganghi, Herbstein founded and lead the Anti-Apartheid Movement in Bombay, India and from 1967 to 1968 he was on the ANC's fund-raising committee in Lusaka.
He moved and settled in Ghana in 1970. He wrote a historical novel called Ama, a Story of the Atlantic Slave Trade, which won him the Commonwealth Writers Prize for the Best First Book in 2002. The book has received rave reviews and many critics believe that countries should include the book in school curriculums when studying slavery, read reviews.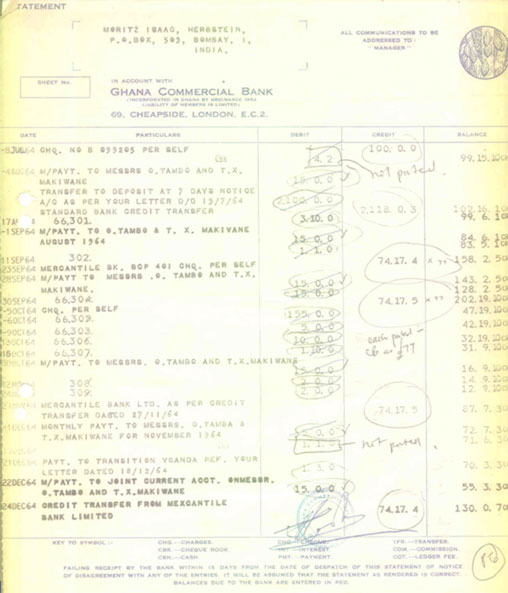 References
Manu Herbstein's documents and personal memory.